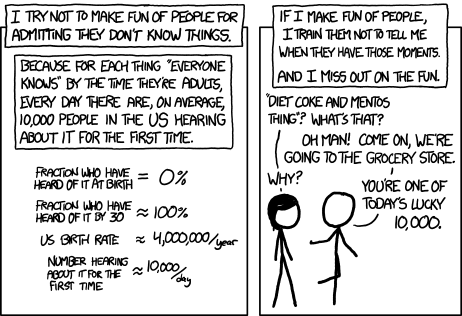 There is an XKCD comic in which he discussed the fact that at birth no one knows anything, so for any given thing that there is to know, there must have been a moment when a person learned it.
One question I get somewhat often is how could I not have known about the allegations about Jeff Mach. My answer to this quite often is "Did you tell me about them? Neither did anyone else."
One person told me this week that all kinds of performers, vendors, and patrons knew about them and spoke of them in hushed terms, but that anyone who tried to speak out was blackballed.
Obviously, not one of these performers, vendors, or patrons mentioned a word to myself or Amy. Did other staff know? I am not privy to their inner thoughts and secret minds, so I cannot answer that question. The one thing I can tell you is that I did not know and Amy did not know. People didn't walk up to the merch table and say "I'll take a large t-shirt, and did you hear about this allegation that's going around that people are being kicked out for talking about?"
Some have then suggested that I learned about them
before we had our meeting
. But this is not entirely accurate. First, I learned that there was a concerted effort to destroy Jeff and his company. I then, subsequently, learned that the same people who had previously publicly declared their desire to see Jeff Mach brought low were promulgating allegations against him. Not exactly an unbiased source. And even then the very first time I heard it was that Tuesday.
Apparently there were also posts on another social media site which I no longer use, and thus would not see. Obviously, I did not see the posts on the site that I did not use unless someone directed my attention to them, which they did not until all this began.
From that moment forward, everything was entirely reaction. There was an event to run in a week, and the company was in crisis. The focus was on running the event while trying to separate rumors, truth, and outright lies. It was a very challenging time.
To those who ask how I could not have known, I ask you this: How could you not know that we were unaware? And if you say you had no way to know, then you might understand our situation.